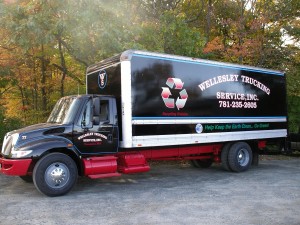 Wellesley Trucking Service, Inc., is a family owned and operated waste hauling and recycling company that is fully insured and bonded since founded in 1945 by Albert DeBello.
Since 1945 Wellesley Trucking Service continues to build working partnerships with customers by providing on-time, professional service at competitive prices.  We specialize in commercial, municipal and industrial waste and recycling. We provide a seamless solution to your waste removal and recycling needs.  Containers and dumpsters are placed strategically on your site with pickup and removal on contracted schedules, as well as unscheduled pickups as needed.  We guarantee on-time, efficient waste removal, recycling pickups and roll off service. Wellesley Trucking is fully insured and bonded.  All disposal and recycling contracts meet local and state environmental regulations.  Wellesley Trucking is a active member of the community sponsoring various charities and fund raisers.
Our Mission
To increase productivity by understanding our customers' needs, by providing personalized quality service that addresses concerns for a clean and healthy environment while maintaining cost effective, sound solutions for our customers waste and recycling needs.